we setup learning libraries (lms)
(technically also called a learning management system).We build your learning library. We develop the content for your online and blended learning and / or recycle any of your current content. We setup the cloud based Adobe Captivate Learning Solution for you and fill it with content according to your specifications. Once you are set, we train you on how to administer the system and you are the boss of your own system.
What is a learning management system?
A learning management system (LMS) is a software application for the administration, documentation, tracking, reporting and delivery of educational courses or training programs. They help the instructor deliver material to the students, administer tests and other assignments, track student progress, and manage record-keeping. LMSs are focused on online learning delivery but support a range of uses, acting as a platform for fully online courses, as well as several hybrid forms, such as blended learning and flipped classrooms. LMSs can be complemented by other learning technologies such as a training management system to manage instructor-led training or a Learning Record Store to store and track learning data.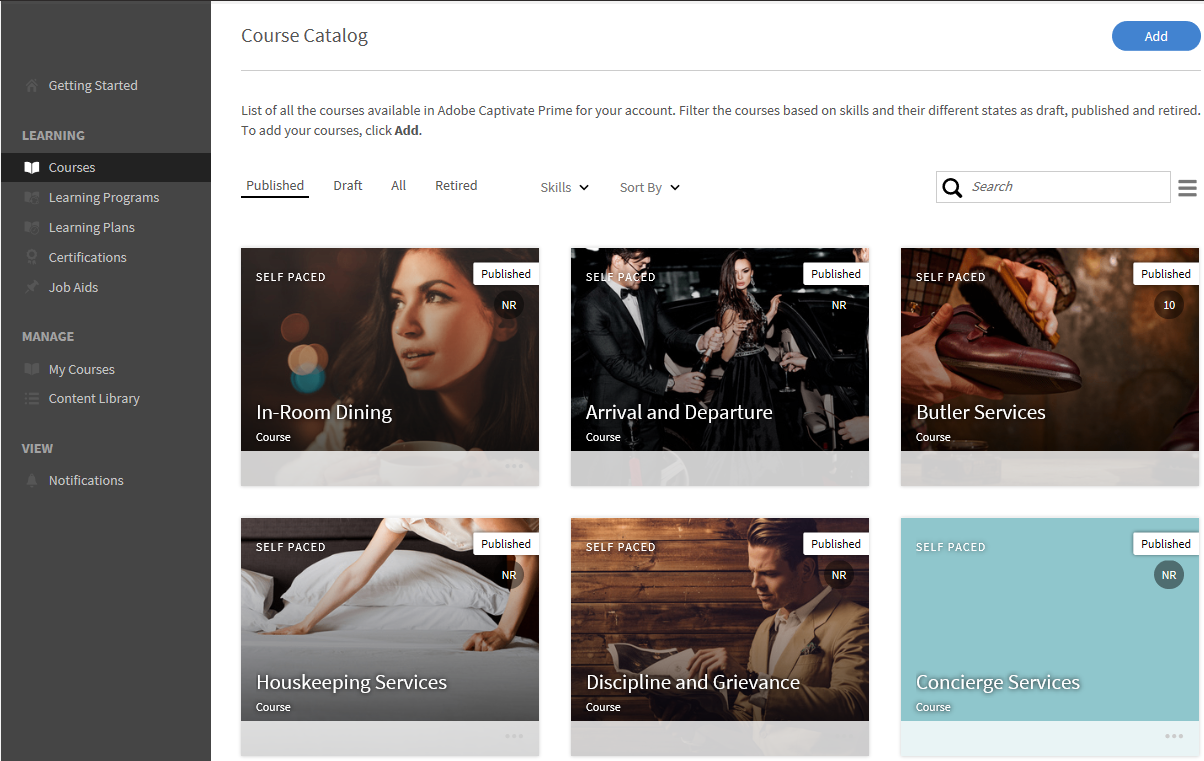 LMSs are focused on online learning delivery...
.. . but support a range of uses, acting as a platform for fully online courses, as well as several hybrid forms, such as blended learning and flipped classrooms
TraLib recommends Adobe Captivate Prime. Please find following review done by the eLearning Industry body that will explain the main features of the software.
There are a number of learning management systems that claim to be the "all-in-one solution", but only a select few typically live up to that promise. Adobe states that their new Adobe Captivate Prime offering is a "ground breaking new Learning Management System" that "empowers you to setup, deliver, track and manage your learning environment all by yourself"…but is it the complete package that you are looking for? In this review, I'll delve into the features, pricing, support services, and ease of use for Adobe Captivate Prime, so that you can determine if it's really the right option for your eLearning needs.
Adobe Captivate Prime Review: How To Take Charge Of Your Learning Environment
Adobe Captivate Prime is a learner-centered LMS that is geared toward how corporate training experiences can be made engaging for the learners. In fact, from the very start Adobe had focused on the needs and demands of learners as well as administrators and learning & development departments while they were developing Prime. The question is: Is Adobe Captivate Prime the ideal choice for your organization?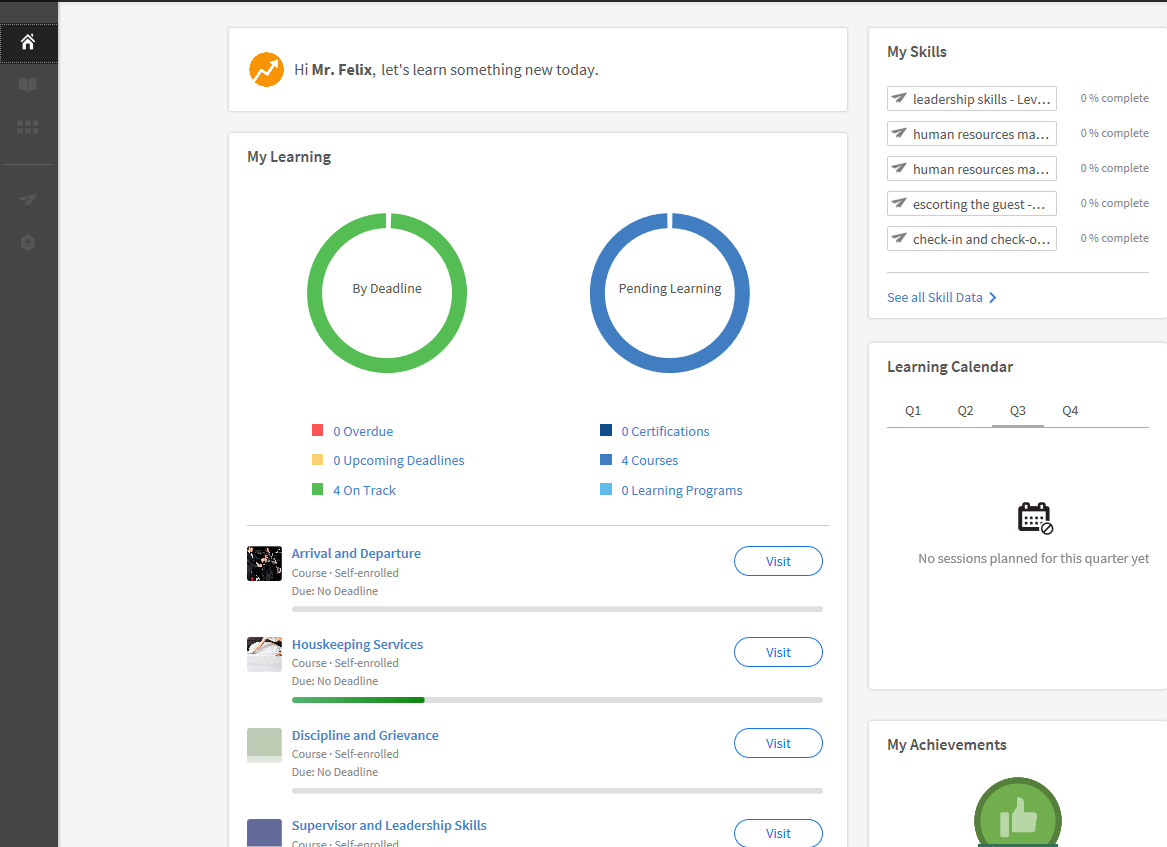 Captivate Prime is a learner-centered LMS...
that is geared toward how corporate training experiences can be made engaging for the learners.
An Easy LMS With Power Under The Hood
Adobe is known for their intuitive and versatile learning management systems, and their Adobe Captive Prime LMS is no different. It boasts a user interface that focuses on single web page architecture, which gives you the opportunity to design your online training courses without having to skim through an abundance of pages. Adobe Captivate Prime also features an inbuilt LCMS function, giving you the power to organize and group modules and create structure within your online training programs. This is ideal for organizations who may have a vast assortment of learning materials or certifications that need to stay organized and up-to-date.
5 Adobe Captivate Prime Standout Features
Fluidic Player.
Adobe Captivate Prime includes a player that adds a whole new dimension of interactivity to online training courses. It supports virtually any multimedia, ranging from standard videos and PDFs to SCORM-compliant content. You don't have to worry about downloading any additional plug-ins in order to offer your learners high quality, engaging, and immersive streaming videos that draw them into the training experience.
Learner Dashboard.
In addition to the intuitive dashboard that Adobe Captive Prime offers eLearning professionals, your corporate learners also have access a user-friendly dashboard that allows them to track their progress. They can immediately view how many eLearning courses they've completed, how many they still need to complete, what skills they've developed, and which supplement online courses they may want to consider.
Offline Access.
There are instances where employees simply cannot access the internet, but still need to be able to participate in the online training course. This is where the Adobe Captivate Prime offline access comes in handy. Learners can finish an eLearning course even if they are no longer connected to Wi-Fi by simply downloading the content via the Prime app. When they are back online, the application auto syncs to the system and continues tracking learner progress.
Learner Tracking.
Every aspect of the online training course is tracked via the LMS, from interactions to performance assessment scores. This gives organizations the ability to fine tune their training strategies and determine if certain employees may require additional help to reach their true potential.
Gamification.
Motivation is key to successful online training experiences, and Adobe Captivate Prime offers a top notch gamification system that includes badges and leaderboards that encourage learners to do their very best. Learners can even keep track of the badges they've earned or view their ranking on the leaderboards via their dashboard, which helps them stay fully engaged in the online training process.
Review by Christoforos Pappas (elearning Industry)